Course Details
It is vital for a musician today to be as comfortable in the studio as they are in the concert hall. But the rhythm and vocabulary of recording is very different to that of performing. So how do you get your first experience of working when the red light is on?
And Other Duties, in collaboration with FAME'S is offering a rare chance for eight conductors to spend five full days in one of the world's busiest orchestral recording studios. 
At their state-of-the-art building in Skopje, North Macedonia, FAME'S have recorded thousands of scores for films, TV, videos games, music library, pop and classical music projects since they were founded in 2008. The FAME'S orchestra draws the very best players from all over the Balkans and their recordings have won countless international awards. 
During this course you will be fully immersed in studio life. You will start by observing live recording sessions from within the control booth and also seated amongst the orchestra in the studio. You will learn how to run a session, making notes on takes and acting as an assistant producer. You will watch the engineers at work and see the editing process close-up. You will work with click track and video and you'll liaise with composers during commercial sessions. You will also learn how to talk to camera and practice your public speaking skills.
Every day you will get to conduct a group of professional musicians in the FAME'S rehearsal space and in the recording studio itself, practicing the skills you have observed. And on the final day you will record your own project in the studio with a 26-piece orchestra. You'll take away an edited recording with multi-camera 4K video footage which you'll be able to use for applications.
Repertoire
Repertoire will be confirmed by December 2023 and will be dependent upon the commercial recording sessions at FAMES. Composer/conductors may apply to conduct and record their own material. 
Fee €1950
Optional 6 night accommodation from 20th-26th is available for an inclusive fee of €2540
Accommodation is provided in ensuite rooms on-site at the studio.
Course Details
Today, every young conductor needs to know how to work with young musicians. Most assistant conductor positions with professional orchestras will involve a great deal of work with youth orchestras and your duties will include planning, conducting and presenting education concerts. As a freelance conductor, youth orchestras will most likely feature highly in your portfolio of work and knowing how to get the best out of young musicians is a skill that is highly valued.
In this And Other Duties course, you will get to work with one of the best youth orchestras in the world as they prepare for a concert in Manchester's Bridgewater Hall.
Chetham's is the largest specialist music school in the UK, and its unparalleled programme attracts students from countries worldwide.
For an entire week, you will be involved in all aspects of rehearsing their outstanding Symphony Orchestra – from taking sectionals to assisting guest conductor Lee Reynolds. There will be plenty of podium time and in addition to conducting the Symphony Orchestra, you will also work with younger students in the Chetham's Philharmonic and with small ensembles of professional musicians drawn from the outstanding teaching staff at the school.
When you're not conducting, there will be seminars on all aspects of working with young musicians and on designing concerts for young people. You'll learn about how to manage rehearsals, how to achieve the right balance when programming for young musicians, we'll talk about safeguarding and how to work with your team, and we'll discuss the difference between working with different age groups.
Our team of highly experienced industry leaders will advise you on how best to create and deliver education programmes with professional orchestras, using examples of concerts designed for the LSO, Hallé, CBSO and the BBC Philharmonic.
Repertoire to include:
PROKOFIEV Violin Concerto 

DEBUSSY Prélude à l'après-midi d'un faune

RESPIGHI

,

 

Fountains of Rome


MARX,

Herbstchor an Pan
A small class of 8 conductors will each get over 150 mins of podium time spent with the 80-piece Chetham's Symphony Orchestra, 100-strong chorus, and a professional chamber ensemble.
Fee £1450
The Rite with Marin Alsop
November 26th - December 1st, 2023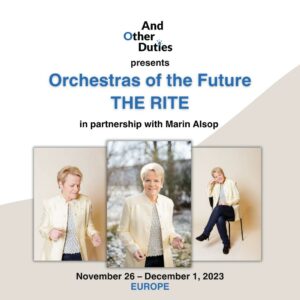 APPLICATIONS NOW CLOSED
The Rite of Spring is as exhilarating as it is complex, as rewarding as it is challenging. Metaphors, perhaps, for what it is to be a conductor.
But what does it take to lead an orchestra in the 21st century? That is the question we will be asking on this 6-day course.
Marin Alsop is renowned not just as a music director but as one of the finest music educators of our time. During her week in Dublin, she will be offering eight of the world's most promising young conductors the unforgettable experience of working alongside her and the NSO in a series of masterclasses, seminars and discussions which explore the skills that will be needed to lead the orchestras of the future.
THE RITE offers
The chance to study, conduct and assist on Stravinsky's seminal ballet, The Rite of Spring
The chance to meet leading international orchestral managers
The chance to work closely with Marin Alsop
The chance to conduct in a public masterclass with the National Symphony Orchestra of Ireland.
WHY?
This course offers the opportunity to study one of the greatest works in the repertoire with one of the world's most influential conductors.
WHAT?
Three chamber sessions (with 2 pianos and string ensemble) over two days followed by a whole day conducting the National Symphony Orchestra of Ireland.
90 minutes of podium time, seminars with industry leaders and the opportunity to assist Marin Alsop for her own rehearsals with the NSO
WHEN?
November 26th – December 1st, 2023
WHERE
National Concert Hall, Dublin, Ireland.
Fee
Full Participant €1500 (8 spaces)
Observer €450 (8 spaces)
And Other Duties aims to provoke questions as much as to provide answers, and so we will be joined by leading industry figures for seminars and panel discussions in which we explore what it is that orchestras need from a conductor today. Guests to be announced in the coming weeks.